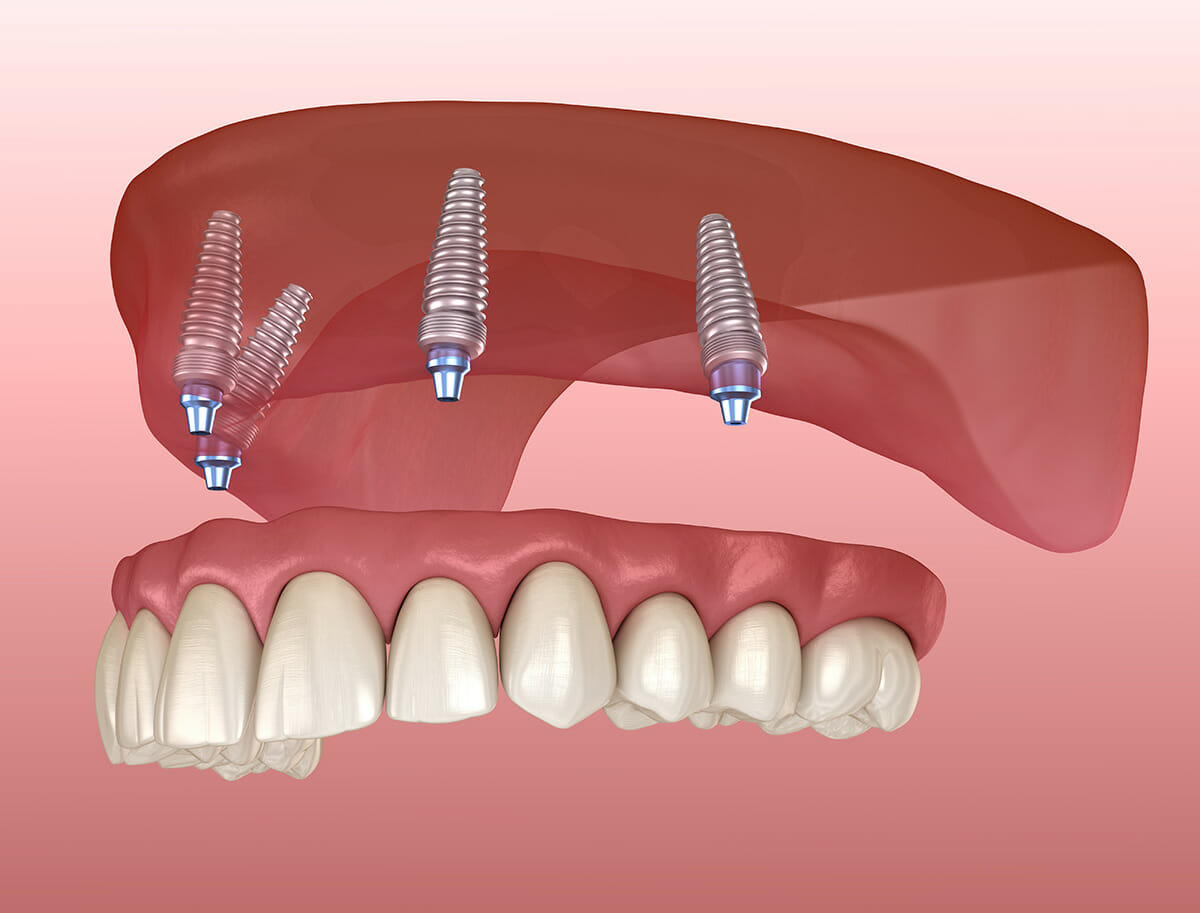 Dental implants are an excellent way of restoring your smile when several or all of your teeth are missing. Implants are functional, beautiful, and long-lasting. Because they are attached to the jawbone, they provide a strong foundation for prosthetic teeth.
In the past, implants were installed on a one-to-one basis: one implant for one tooth. Now, with advancements in dental techniques and technologies, we can use just four titanium screws on the upper or lower jaws to support a full set of new teeth. At DFW Oral Surgeons, our skilled team can repair and restore your smile in a single day with All-On-4® dental implants!
Why Should I Choose Dental Implants?
Dental implants are the best way to replace one or more missing teeth. This is because, unlike other options, implants are attached to the jawbone. Over time, the jawbone will grow around the metal device and fuse with it. This connection helps fortify the implant and displace pressure from your bite as you eat and chew. Additionally, because implants encourage bone growth, they can help revitalize weak and disfigured jawlines.
Unlike traditional bridges and dentures, implants provide an artificial root system. This added stability will make your new teeth feel, look, and function just like your natural ones. Because implants are a permanent replacement option, you won't have to worry about needing to undergo this procedure more than once. With excellent care, you can enjoy your new smile for a lifetime!
What Are the Benefits of All-On-4® Implants?
In the past, oral surgeons would install one implant for each missing tooth. For patients needing all of their teeth replaced, this would have been a massive undertaking. Now, improvements in dental technologies allow us to use just four implants on the top or bottom jaw to support an entire ridge of teeth.
All-On-4® implants have a wide variety of benefits. Because so few implants are needed, the recovery process is quicker, poses fewer complications, and is less painful. Additionally, we can place temporary teeth over your All-On-4® implants so you can enjoy a beautiful, functional smile the same day as your procedure! Once your implants have healed, we will install your permanent teeth.
Am I a Candidate for Dental Implants?
During your first visit, Dr. Shillingburg or Dr. Castillo will conduct a full examination of your mouth and oral structures. This will include taking digital X-rays to check the health and size of your jawbones. Because we insert implants into the jaw, your bones will need to be strong enough to undergo this operation.
If your jawbones have eroded, weakened, or become disfigured, don't worry! We have a variety of options available. Depending on your oral health, we may recommend:
A bone graft
Zygomatic implants
All-On-4® implants
Bone grafts can help strengthen and rebuild the bone along your jaw. This operation involves taking bone material from another part of the body – often the leg – and grafting it onto your existing bone. Over time, your new bone will merge with your existing one, strengthening your jaw enough to hold implants.
Another alternative would be to install zygomatic implants. For this treatment, we attach implants to the zygoma (cheek) bones instead of the jawbones. This is an excellent choice for those with low bone density. All-On-4® implants may also be a good option since the angles at which we install these implants make it easier to attach them to thin bones.
To learn more about All-On-4® implants, call our office at 972-947-5742, send us an email, or schedule an appointment online.