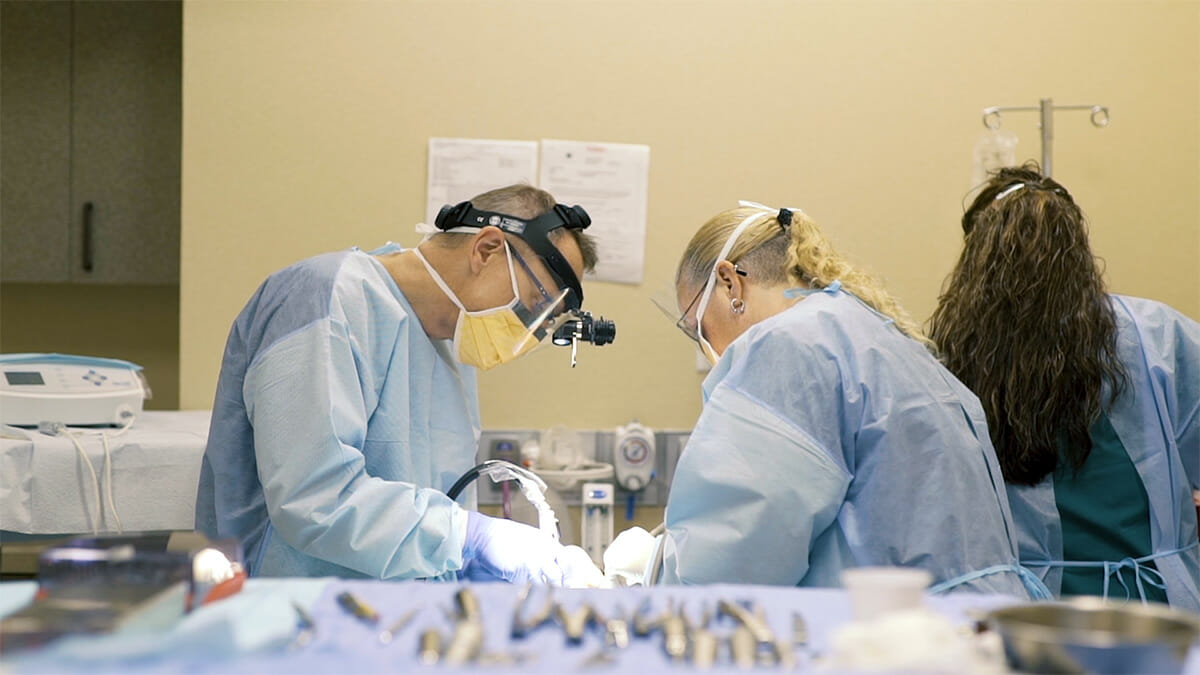 Unfortunately, even people who take excellent care of their smiles sometimes need surgical treatments. If you find yourself with a severe dental problem, such as missing teeth, a receding gum line, or weak bone structure, we are here to help. At DFW Oral Surgeons, we offer a wide range of procedures to treat and restore your teeth, gums, face, and mouth.
Do I Need Oral Surgery?
Surgeries are often necessary for patients with severe or late-stage oral health problems. During your initial consultation with our oral surgeons, we will conduct a thorough examination of your teeth, gums, skin, facial muscles, and jawbones before suggesting a treatment. Some disorders can be corrected with little to no surgery, while others cannot be resolved without it.
Fortunately, there is no need to worry about your operation! We have a wide variety of sedation options available to make your procedure as relaxing and pain-free as possible. Additionally, we will help you negotiate with your insurance company and file a claim, so you can focus on getting better. We even have alternate financing options, like CareCredit®, available for patients who need help paying for their operation.
What Services Do You Offer?
At DFW Oral Surgeons, we have provided quality surgical care to the community in and around Flower Mound, Texas, since 1989. Our skilled staff is capable of handling a wide range of oral injuries and diseases. To keep our patients and their families healthy for a lifetime, we are proud to offer the following services:
Gum grafting
Bone grafting
Sinus lift
Ridge augmentation and expansion
Reconstructive oral surgery
Orthodontic surgery
Facial reconstruction
What is Bone and Gum Grafting?
Grafting is the process of taking bone material or soft tissues from one part of the body and putting it in an area that needs additional support. For example, if your gums are receding, dentist can take a small amount of skin from the roof of your mouth and graft it onto your gums. Once the new tissue is in place, your gums will begin to grow and merge with it. Over time, this can restore unhealthy, receding gums to their full health.
Grafting is also used in several other procedures to strengthen the jawbones enough to receive dental implants. We use bone grafting to perform sinus lifts, reconstructive oral surgeries, and ridge augmentation and expansion operations.
Can You Fix My Teeth?
At DFW Oral Surgeons, we can skillfully restore broken, missing, and misaligned teeth. If you are missing teeth, we can use dental implants to replace as many as needed.
For those with misaligned teeth, we offer orthodontic surgical procedures to correct the alignment of your smile. We can also perform extractions on impacted or severely damaged teeth.
What is Reconstructive Surgery?
Disfigurement in the face and mouth can be embarrassing and life-changing. At DFW Oral Surgeons, we are committed to helping all of our patients have a comfortable, natural-looking smile they can be proud of. If you have experienced severe injuries, decay, or disease in your face, mouth, or jaw, call us today to schedule a consultation.