Implant-Supported Bridges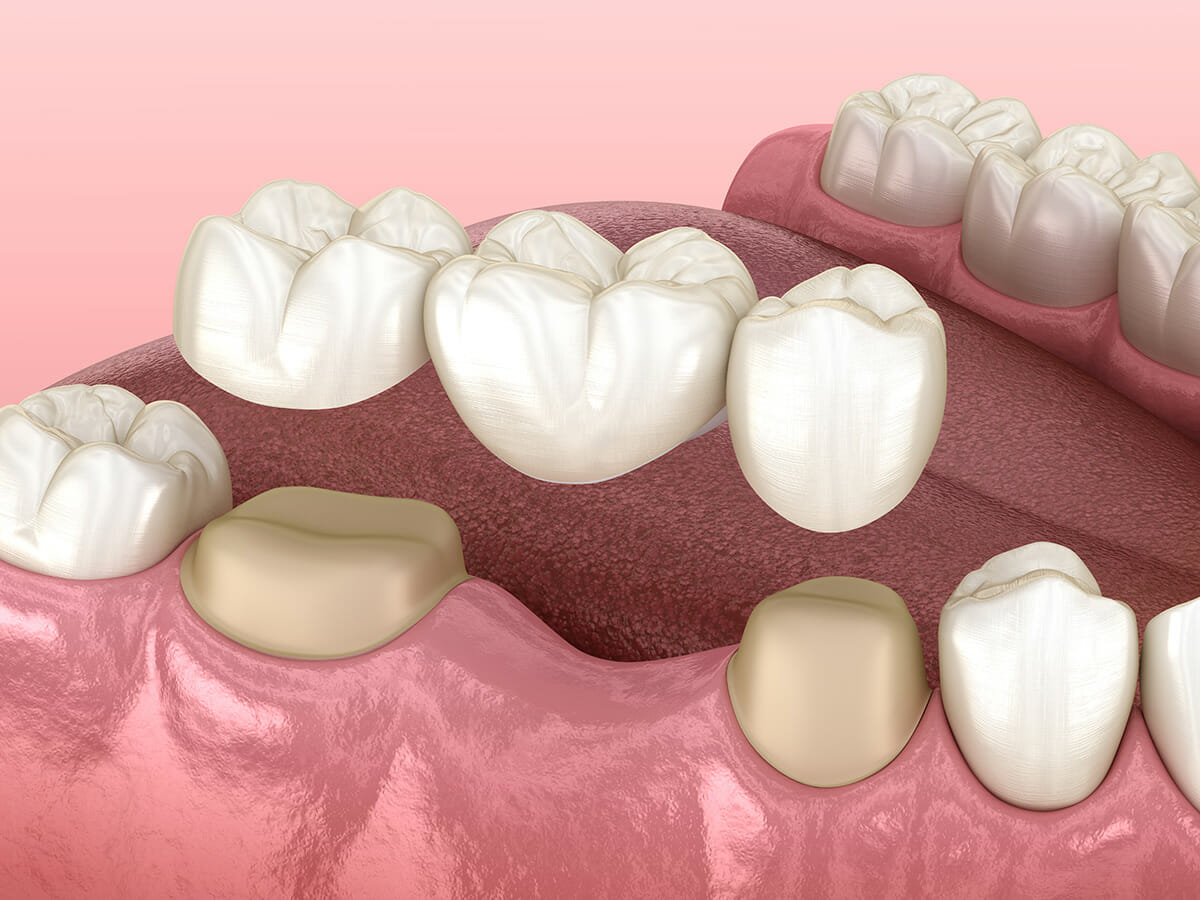 Dental bridges are an excellent solution for those who have missing teeth. High-quality bridges can replace several teeth in a row while restoring the bite's strength and functionality. At DFW Oral Surgeons, we can use implant-supported bridges to beautifully restore your smile.
What Are Dental Bridges?
A dental bridge is a type of treatment we use to replace one or more missing teeth. A traditional bridge consists of one prosthetic tooth and two supporting crowns. The two anchor crowns are permanently attached to the natural teeth on either side of the gap. They hold the prosthetic tooth in place and provide support while eating. Together, these three components "bridge" the space left by a missing tooth. We can use this same process to replace a single tooth or several teeth in a row.
What Are the Benefits of Implant-Supported Bridges?
Because traditional bridges do not have an artificial root structure, they must rely on the surrounding teeth for strength and support. Unfortunately, that additional pressure can damage your natural teeth and jawbones. Without any artificial roots, your jaw bone may weaken and degrade over time.
Implant-supported bridges provide a solution for all of these problems. Instead of just hanging over the gap, dental implants attach these bridges directly to your jaw. This helps to evenly distribute the pressure of your bite to protect your surrounding teeth and bones.
Implant-supported bridges can:
Prevent your natural teeth from shifting
Restore your ability to eat and speak
Evenly distribute pressure as you chew
Preserve the health of your jawbone
Restore the appearance of your smile
What is the Procedure?
Your first visit will begin with a consultation and examination by dentist. During your appointment, we will take panoramic X-rays of your mouth to examine your teeth, bones, and overall oral structure. After this, we will explain his findings and recommend how to move forward. We will thoroughly explain everything, so you understand what your procedure will involve. Depending on your situation, we may consult with your general dentist to coordinate your treatment.
We will begin by installing your dental implants. To do this, we will make a small incision in the gums and directly attach a titanium post to your jawbone. Part of the implant post will remain above the gumline to later attach your dental bridge.
It will take several months for your implants to heal. Once you are ready, we will call you in for a final appointment where we will attach your new bridge. Because we use NobelProcera® implant bridges, we can ensure your new teeth are beautifully functional and natural-looking.
To learn more about implant-supported dentures or schedule a consultation, please call our office today at 972-947-5742. A friendly member of our team will be happy to answer any of your questions or concerns.