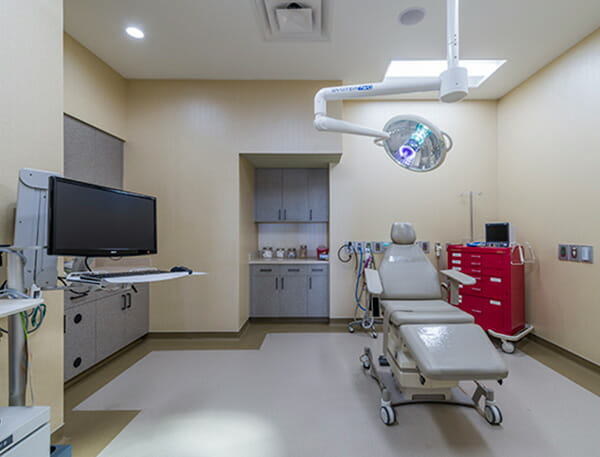 The prospect of oral surgery can be intimidating, especially for those needing extensive work done. Thankfully, with modern sedation options, you can undergo your treatment in complete comfort! At DFW Oral Surgeons, we are proud to offer a variety of sedation options so you can have a pleasant, stress-free dental experience.
What Types of Sedation Do You Offer?
We have a full range of sedation options available to our patients. Whether you need a local anesthetic for a minor operation or want to be comfortably asleep with a general anesthetic, we can help. Our sedation options include:
Local anesthetic
Nitrous oxide (laughing gas)
General anesthesia
IV sedation
Oral sedatives
Exparel opioid-free local anesthetic
What Do You Use for Minor Procedures?
Unless you suffer from severe anxiety, we will likely only give you a local anesthetic for a minor procedure. To do so, dentist will inject a small amount of the medicine into the area he will be operating on. In a matter of seconds, the surrounding nerves will go numb, so you will not feel any pain during your treatment. With this option, you will be fully awake and able to communicate with your surgeon.
If you are anxious about your procedure and would like something to help you relax, ask dentist about oral sedatives. These medications should be taken an hour before your appointment and will help you relax throughout your visit. You will need to pick these pills up from your preferred pharmacy and bring them with you.
For something a little more powerful, we may recommend nitrous oxide (laughing gas). With nitrous oxide, you will be fully awake but feel relaxed and drowsy. You will be able to communicate and respond to basic instructions.
What Will You Use for Full Operations?
For more extensive operations, we generally recommend full sedation. General anesthesia is the most powerful sedative we offer and will allow you to sleep peacefully throughout your visit. You will not feel, hear, or remember anything from your treatment.
Another option is IV sedation. With this, you will be somewhat conscious but will not feel any pain or discomfort. You will feel completely relaxed and will be able to respond to basic instructions from dentist and his team.
What is Exparel Opioid-Free local anesthesia?
At DFW Oral Surgeons, we are proud to offer Exparel Opioid-Free local anesthesia. This medication is not a narcotic and works by numbing the area where it was injected instead of affecting the entire body. Because it lasts up to three days, Exparel can keep you comfortable longer and reduce your need for over-the-counter pain medications.
How Should I Prepare for My Visit?
Before your appointment, be sure to brush and floss your teeth. A thorough cleaning will help reduce the number of bacteria in your mouth before your visit. Depending on what sedation method you prefer, we will give you a list of steps you should take to prepare.
The effects of general anesthesia and IV sedation can last for a few hours after your treatment. Because of this, you will need someone to drive you home after your surgery. It may be necessary to eat only soft foods for several days after your operation.
To learn more about our dental sedation options and how you can prepare for your visit, please call our office at 972-947-5742, send us an email, or schedule an appointment online.